4.4 Differential diagnosis: What are common diseases that look like Ileitis and how to recognize them?
4.4.1 Stomach Ulcers, ulceration of the esophago-gastric region
Sudden death along with passing bloody stools can be caused by stomach ulceration of the eso-phagogastric region. These stomach ulcers are commonly found in fattening pigs. Pigs bleed into the stomach when lesions become severe (see pict. 4.4.1 a).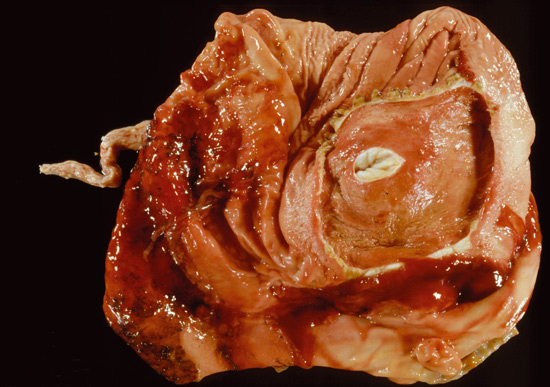 Picture 4.4.1 a (by J. Pohlenz)
Extended ulceration of the esophago-gastric region of the stomach of a fattening pig which died from bleedings through this ulceration.
Affected pigs become anaemic with tarry faeces. Upon necropsy all of the intestinal loops may be filled with blood and this may simulate a haemorrhagic enteritis. The intestinal mucosa, however, is unaffected and there is no diarrhoea present. The cause of this condition has been discussed for many years, but there is evidence that processing of feed (fine grinding) contrib­utes to the development of stomach ulcers, as will interrupted feeding. Associated with poor health, ulcers may develop as rapidly as 24 hours after the last feeding. Stress along with high copper contents in the ration is another poten­tial cause. In some instances supplementation of selenium and tocopherol and/or supplemen-tation of zinc have been used to prevent the development of lesions in the cutaneous mucosa of the stomach.
COPYRIGHT NOTICE: ILEITIS TECHNICAL MANUAL 3.0
© Boehringer Ingelheim Animal Health GmbH, 2006
All rights reserved. No part of this Technical Manual 3.0 may be reproduced or transmitted in any form or by any means, electronic or photocopy, without permission in writing from Boehringer Ingelheim Animal Health GmbH.